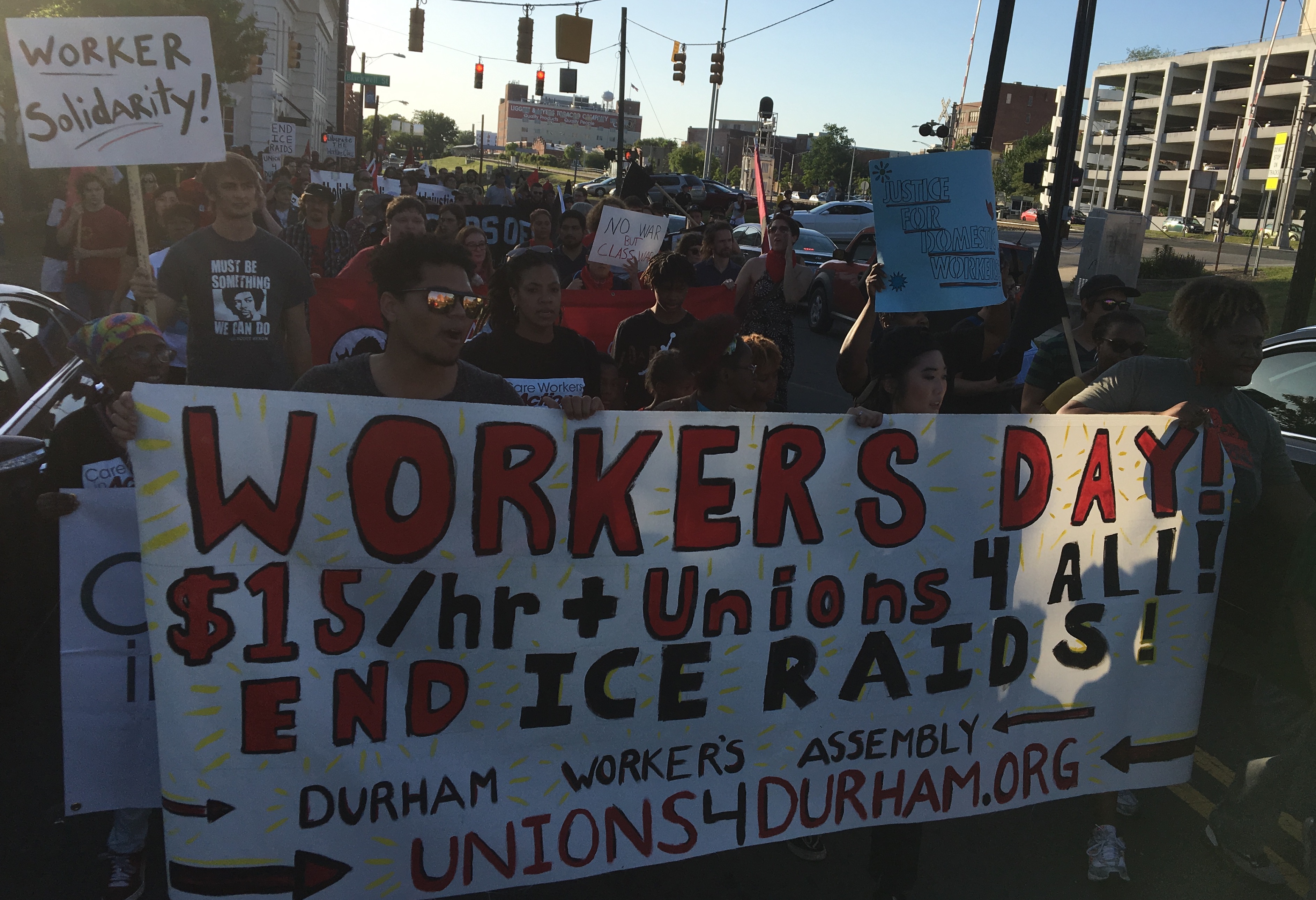 ~~En español abajo~~
First off, we want to encourage everyone to support the NCAE teachers action at the State Legislature on Wednesday, May 1 during the day. They have a great 5 point agenda of demands and are planning a massive day of action and rallies.  
More information here. 
—————————————————————————————–
May Day 2019, Durham, NC Call to Action:
May Day, International Workers Day 
Workers Solidarity March
May 1, 2019
5:30pm,  1109 E. Main Street, Durham
5:30pm – opening rally at Los Primos grocery store, 1109 E. Main Street, Durham
6:15pm – March kicks off. Stops with short rallies at new police HQ, City Hall and McDonalds. We are hoping to have speakers at each of these stops.
RSVP and invite friends to Facebook event page here. 
No Walls in the Workers Struggle
May Day, International Workers Day unites workers and oppressed peoples across the world in struggle for liberation. Just as workers struggled in 1886 to win an 8 hour work day, workers in Durham, NC and around the world today are struggling for:
No to ICE raids, mass incarceration and police brutality
End sexual harassment #MeTooMcDonalds
Raise the Wages: $15/hr and union rights for all
No to racism and restructuring of City worker jobs
No to $3 million for more police
US Hands off Venezuela, No to Trump's wars at home and abroad and the militarization of the border
Who does Durham belong to? Does it belong to the bosses, landlords, police, and ICE; those that own the condos and run the jail? Or does it belongs to the workers, the incarcerated, the oppressed, and migrants? We demand that the $3 million proposed by City Council for hiring 72 more police be spent on affordable housing, living wage union jobs, mental health care, and education. We demand that money be reinvested to support worker organizations, to build unions and fight back against employers. Rather than this money be spent to protect the rich and owners, at the expense of all the exploited communities that have the right to call Durham home, especially the displaced Eno people, the Occaneechi Band of the Saponi nation, Tuscarora nation and Catawba nation. We demand that the trillions made by the workers across the country, not be spent by Trump, the Pentagon, and corporate profiteers on war. Instead, it should be spent on the people's needs.
We support Black, migrant, trans, queer, and indigenous people. No where is the exploitation of these workers more apparent than in the US prison system. We support the liberation of all prisoners. We stand with Kanautica Zayre-Brown, against her systematic torture and the state's attempt to rob her of her identity, freedom and dignity. She is a Black trans women held at a Warren County men's facility. We support state workers fighting for trans-inclusive health care.
40% of all women workers in low wage jobs face sexual harassment. McDonald's workers in Raise Up in Durham are reclaiming their power and organizing against this epidemic. We stand with them to demand safety and dignity on the job. #MeTooMcDonalds.
Workers in the City of Durham are organizing against the structural changes that are causing a work speed up, more force overtime and increased licenses and degrees. With position vacancy rates as high as 11.1% in Water Management and 15.3% in Public Works, we should all be concerned about understaffing and over-working the current employees. We stand against the white management structure engaged in racist hiring and promotions. We support the Durham City Workers Union, chapter of UE local 150, and the movement to repeal the Jim Crow ban on public sector collective bargaining. 
This is why we say "No Walls in the Workers Struggle." No walls on the border. No prison walls. No walls to divide workers. As the Durham working class, we reclaim our city! Join us on May Day we march together!
Initiated by the Durham Workers Assembly
Endorsers:
(List still in formation, add your organization!)
***This is a kid and family-friendly event. 
Un llamado a tomar acción este primero de mayo de 2019, Durham, Carolina del Norte
No a los muros en la lucha de lxs trabajadores
El primero de mayo, día internacional de lxs trabajadores reúne a trabajadores y los pueblos oprimidos en todo el mundo en la lucha por la liberación. Así como lxs trabajadores lucharon en 1886 para ganar una jornada de 8 horas, lxs trabajadores en Durham, Carolina del Norte y en todo el mundo hoy luchan por:
Un alto a las redadas de ICE, al encarcelamiento masivo y la brutalidad policial

No a los $3 millones para conseguir más policía

Poner fin al acoso sexual #MeTooMcDonalds

Aumentar el salario: $15/ hora y el derecho de formar un sindicato para todxs

No al racismo y la reestructuración del empleo de trabajadores municipales

No a la intervención de los Estados Unidos en Venezuela, No a las guerras de Trump aquí y en el extranjero, y a la militarización de la frontera
Marcha del primero de mayo, día internacional de lxs trabajadores
1 de mayo de 2019
5:30pm, Los Primos Grocery Store, E. Main Street, Durham
Marcha a la nueva sede de policía, al ayuntamiento y a McDonalds.
¿A quién pertenece Durham? ¿Pertenece a lxs jefes, a lxs propietarixs, la policía y ICE; es de quienes poseen los condominios o quien administra la cárcel? ¿O pertenece a lxs trabajadores, lxs encarceladxs, lxs oprimidxs, y lxs migrantes? Exigimos que los $3 millones propuesto por el Concejo municipal para contratar a 72 más agentes de policía, sea asignados a la vivienda económica, a los trabajos sindicalizados de salario digno, a la atención de salud mental y la educación. Exigimos que se vuelva a invertir el dinero para apoyar a las organizaciones laborales, para construir sindicatos y defendernos contra lxs empleadores. En lugar de gastar este dinero para proteger a la gente adinerada y terrateniente, a expensas de todas las comunidades explotadas que tienen el derecho de encontrar su hogar en Durham, especialmente el pueblo Eno, la Banda Occaneechi del Pueblo Saponi, los Pueblos Tuscarora y Catawba, ya desplazados. Exigimos que los trillones de dólares producidos por lxs trabajadores en todo el país no sean desperdiciados por Trump, el Pentágono y lxs empresarixs especuladores de la guerra. En cambio, debe ser invertidos en las necesidades de las personas.

Apoyamos los pueblos negros, migrantes, trans, queer e indígenas. No hay lugar donde la explotación de estxs trabajadores está más evidente, que en el sistema de cárceles de los Estados Unidos. Apoyamos la liberación de todxs lxs presos. Nos solidarizamos con Kanautica Zayre-Brown, contra su tortura sistemática y el intento del estado de robarle su identidad, libertad y dignidad. Ella es una mujer negra trans detenida en la cárcel de hombres en el Condado Warren. Apoyamos la lucha de lxs trabajadores del estado por la salud trans-inclusiva.

El 40% de todas las trabajadoras en empleos de bajo salario sufren del acoso sexual. Lxs trabajadores de McDonald's que participan en Raise Up Durham están haciendo valer su poder y su trabajo organizativo contra esta epidemia. Nos solidarizamos con ellxs en exigir la seguridad y dignidad en el trabajo. #MeTooMcDonalds.

Lxs trabajadores municipales de Durham se organizan en contra de los cambios estructurales que se han llevado a un aumento en la velocidad de trabajo, más horas extra obligatorias y un aumento de licencias y grados. Con la tasa de puestos no ocupados llegando hasta el 11.1% en el Departamento de gestión de agua y de 15.3% en Obras públicas, todxs debemos preocuparnos por la falta de personal y el exceso de trabajo para lxs trabajadores de planta. Nos oponemos a la estructura de gerencia blanca que ha hecho uso de procesos de contratación y acenso racistas. Apoyamos el sindicato de Trabajadores municipales de Durham, Sección local de UE 150, y el movimiento para derogar la prohibición de la negociación colectiva en el sector público, que data desde la era Jim Crow. 

Por esta razón, decimos "No a los muros en la lucha de lxs trabajadores". No a los muros en la frontera. No a los muros de las cárceles. No a los muros para dividir a lxs trabajadores. Nosotrxs, la clase obrera de Durham, ¡estamos recuperando nuestra ciudad! ¡Únete a nosotrxs este primero de mayo para marchar juntxs!
Iniciado por la Asamblea de trabajadores de Durham
Firmantes: