Raleigh, NC
On May 1, over 20,000 education workers, including teachers, bus drivers, counsellors, custodians, nurses, students and their supporters from across North Carolina converged on the State Legislature, shutting down 35 school districts and closing public school for 850,000 students.  Education workers were able to use a "personal day" to call out from work. Organized by the NC Association of Educators, they were marching in support of 5 demands including:
Provide enough school librarians, psychologists, social workers, counselors, nurses, and other health professionals to meet national standard,

Provide $15 minimum wage for all school personnel, 5 percent raise for all school employees and a 5 percent cost of living adjustment for retirees,

Expand Medicaid to improve the health of our students and families,

Reinstate state retiree health benefits for teachers who will be hired after 2021, and

Restore extra pay for teachers with advanced degrees such as a master's degree.
Last year, after years of struggle by the Fight for $15 and the NC Public Service Workers Union (UE150), all state workers won a raise to at least $15 per hour, but school classified employees were excluded. This year they are fighting for the same pay. "I have been here 26 years, I am worth more than $15 per hour," stated teachers assistant Keena Proctor, from Asheville.  
Supporting the education workers was a broad assortment of civil rights, labor and other community organizations. Rev. Dr. William Barber, II, representing the Poor People's Campaign, spoke at the rally saying that "When you hurt teachers, when you deny healthcare, when you refuse to pay workers $15 and a union, it is against the good of the whole… it is time to teach this Legislature a lesson!"
Columbia, SC
Over 10,000 education workers and supporters also gathered in Columbia, South Carolina outside the state's Department of Education and marched to the State House to call on lawmakers to increase their pay and increase funding for the state's public schools. Not only did they demand better pay but also better working conditions and support for their students such as less testing, a daily break for lunch, the use of the restroom and smaller class sizes.
Durham, NC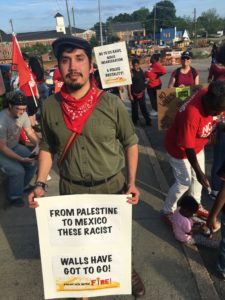 The Durham Workers Assembly held its annual May Day Workers Solidarity March down East Main Street from a Latinx grocery store in the community, past the new $81 million police headquarters, to City Hall and to McDonalds.  17 labor, migrant and community organizations signed on to support the march and demands including:
No to ICE raids, mass incarceration and police brutality;

No to $3 million for more police;

End sexual harassment #MeTooMcDonalds;

Raise the wages to $15/hr and union rights for all; no to racism and restructuring of city worker jobs; and,

US Hands off Venezuela, No to Trump's wars at home and abroad and the militarization of the border.
It was millions of immigrant workers that went on strike and walked out of work places all across the US in 2006 that really brought May Day back to this country.  With Trump's endless attacks in migrant workers, the main theme of the march and rally was "No Walls in the Workers Struggle," referencing opposition to border walls, prison walls and any divisions amongst workers.  The opening rally focused on immigrant workers issues. Speakers included Martha Hernandez from Comite Action Popular in Raleigh, Logan Barcus from Sanctuary Beyond Walls, Lelia Mirabel from Resist RNC 2020 Coalition in Charlotte, Loan Tran from Fight for Im/migrants and Refugees Everywhere (FIRE) and Marina Vasquez from the National TPS Alliance.  TPS stands for temporary protective status that is given to people fleeing countries in crisis. The special status has been granted to migrants from El Salvador, Nicaragua, Haiti, Sudan and Nepal, yet Donald Trump administration has been trying to eliminate their protections and ability to seek asylum in the US.
Stephanie Smith from the National Domestic Workers Alliance – We Dream in Black spoke about the struggles of domestic workers fighting for safety, dignity and to raise their wages.
Sekia Royall, Vice President of the North Carolina Public Service Workers Union, UE local 150, a state mental health worker spoke out about the ban on public sector collective bargaining.  Royall also referenced that the economy of eastern NC is based on labor of migrant farm workers and that we must support their rights to organize, referencing their campaign demanding RJ Reynolds Tobacco bargain with Farm Labor Organizing Committee.
Miguel Staten, uncle of DeAndre Ballard, recently murdered by a security guard and covered up by the Durham Police, spoke out at the police department demanding justice for DeAndre, as well as Ondrae Hutchinson, a 30-year-old Black man killed by Durham police on April 1.
The rally was ended by a militant speech from Eshawney Gaston, a McDonald's worker speaking out against the epidemic of sexual harassment.  The owner of a local franchise of McDonalds on Morgan Street in downtown Durham, has been put on notice about 5 women who have faced harassment.  "Here's what you need to understand: McDonald's sets the standard for the whole industry," stated Gaston. She continued, "When McDonald's pays poverty wages, all the other employers know that they can pay poverty wages. When McDonald's looks the other way about sexual harassment of workers, it makes it easier for other companies to ignore workers when they speak up about sexual harassment. When McDonald's denies our right to a Union, it makes it that much harder for workers at other restaurants to unionize. That's why we're standing together with McDonald's workers, other fast food workers and ALL low-wage workers! We are here for $15 and a Union. And we won't back down without a fight!"
Other speakers included Abdul Burnette from Stop Killing Us (SKU),  Sage Lockman from the Duke Graduate Students Union, SEIU, Earl Bradley from the Fight for $15 and YM Carrington from the Raleigh-Durham branch of Industrial Workers of the World (IWW).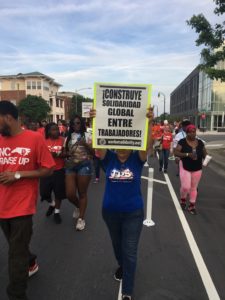 After the rally, workers are continuing to build their monthly workers assemblies, the first Thursday every month, and join the International Worker Solidarity Day Network in monthly actions, "a May Day every month!".  Learn more at http://unions4durham.org